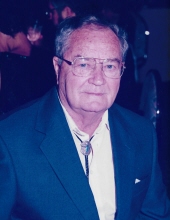 Obituary for Charles J. Faria
CHARLES JOHN FARIA, 95, of St. Petersburg, Florida, formerly of Billerica, died July 25, 2021, at the C. W. (Bill) Young VA Medical Center Hospice in Bay Pines, Florida.
He was the son of John J. Faria, Sr. and Olive M. (Sheehan) Faria. He was born in Cambridge, Mass on June 5, 1926. He was husband of the late Mary (Lewis) Faria and the late Janet (Dumas) Faria.
He was formerly employed as a union printer, a private contractor and retired from the Town of Billerica Public Works Dept. He served as the Town of Billerica's Civil Defense Director for many years. He also served on the Planning Board and Finance Committee.
He served in the U.S. Army in WWII with the 774th Tank Battalion in Europe.
Surviving him is one sister, Mary (Faria) MacMullin, two brothers, Adrian J. Faria and Francis X. Faria, four sons, Charles, David, Thomas and William Faria, two daughters, Lurie Gordon and Marian Butler. He is also survived by many grandchildren, great grandchildren, nieces and nephews.
He was the brother of the late Theresa M. (Faria) Johanson, Olive M. (Faria) Smith, John J. Faria, Jr., Joseph A. Faria, Robert E. Faria and Edward J. Faria.
Services will be private. Memorial contributions may be made to the Dana-Farber Cancer Institute, PO Box 849168, Boston, MA 02284.
Read More