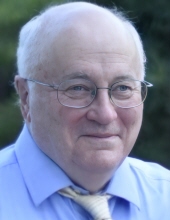 Obituary for Arthur R. Fallon
Arthur R. Fallon, age 74, beloved husband of Marsha M. (DiFranza) Fallon died Sunday at their home with his family by his side.
He was born in Arlington, Sept. 6, 1947 a son of the late John D. and Phyllis (Brown) Fallon and was a forty-four year Townsend resident before moving to Woburn in 2018.
Arthur began his career as a History Teacher at the Marshall Simonds Middle School in Burlington and then went on to become the Technology Director for the Town of Burlington's School System. He was a prolific educator and technology enthusiast. He believed in technology's ability to be a transformative element in the classroom for both teachers and students. He was very active in his faith, singing in the choir, serving as a vestry member and warden. He sang with great joy alongside his wife in the Reading Community Singers. He was a proud member of the Masonic Order of King Solomon's Lodge in Somerville.
A lifelong learner, he reveled in reading and learning new skills for his hobbies. He enjoyed the community and comradery of playing bridge with the Leominster Bridge Club. He also bird watched and drew using colored pencils with his daughter. Most important to him was spending time with his close friends, wife and daughter, especially his new granddaughter with whom he was "birthday buddies". Besides his wife he is survived by his daughter, Courtney Fallon and her husband Charanpreet Flora of Lawrence; one sister Marjorie Spence of Groveland and his beloved granddaughter, Miriam Flora. He was the brother of the late John Fallon Jr. and twin brother of the late Martha Fager.
It being his wish all services were held privately and at the convenience of his family. In lieu of flowers, memorial contributions may be made to Middlesex East Visiting Nurse Hospice, www.vnaofme.com Mass Audubon Society, www.massaudubon.org Club, www.sweeneymemorialfh.com
Ever the art teacher, Courtney is collecting stories for her father. Please send any memories to be part of a memory book to her at courtneyfallon@yahoo.com. These stories will provide immense comfort and connection to his family during this time of deep loss.
Read More