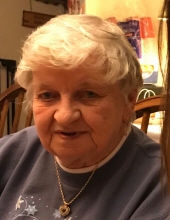 Obituary for Anne M. Gawlinski
Anne M. Gawlinski passed away peacefully Saturday, July 23, 2022 at The Lahey Hospital in Burlington Ma. She was 81 years old.
She was born in Boston, on November 5th, 1940, the daughter of the late Philip G. Hiltz Jr. and Anne M. (Bermingham) Hiltz. She Graduated High School, becoming the wife of the late Stanley S. Gawlinski Sr., she was devoted to raising her 5 kids. Anne later entered into retail and restaurant services.
Anne is survived by her five children; Laura A Gawlinski of Andover, Stanley S. Gawlinski Jr. of Chelmsford, Karen M. McClung of Billerica, Annemarie Paglia of Billerica and Christopher D. Gawlinski of Covington, GA, her; brothers James, John & Peter Hiltz of Plymouth County; her beloved sister-in-law & best friend, Ronnie Hiltz and is also survived by her 7 grandchildren, Kevin & Kyle McClung, Maria & Domenic Paglia, Zachary Chartier, Damon & Derek Gawlinski. She was preceded in Death by her late brothers; Philip, Arthur and William Hiltz.
Anne enjoyed her time on daily phone calls with family & friends. She loved watching The Food Network & game shows, playing cards and scratching lottery tickets. She loved anything to do with animals.
Per Anne's wishes, services will be private. In lieu of flowers, please do an act of kindness today in memory of Anne.
Read More