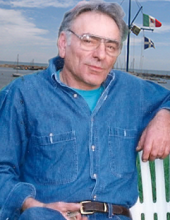 Obituary for Andreano Bruno Di Filippo
Andreano Bruno Di Filippo

1941 – 2016

BILLERICA – Andreano Bruno Di Filippo, age 74, died Wednesday at his home with his family by his side.

He was born in Ortona, Italy, December 12, 1941 a son of the late Rugiero and Maria (Cannavino) Di Filippo and lived in Malden before moving to Billerica 41 years ago.

Mr. Di Filippo served in the US Army during the Vietnam War, was an auto mechanic working for Mal's Auto in Arlington before starting his own auto repair business and was a member of the American Legion in Malden.

He is survived by one son, Frank Di Filippo of Billerica; two daughters, Donna Spirito and her husband David of Billerica and Andrea Carr of Orlando, FL; one sister, Lisa Olson of Billerica and his longtime companion Lisa Rengucci of Plymouth, MA.

DI FILIPPO – Of Billerica, formerly of Malden, June 8. All services will be held privately and at the convenience of his family.