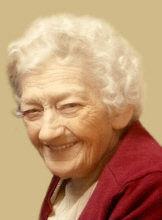 Obituary for Adelia J. Strong
ADELIA J. STRONG Age 91, died Tuesday at the Life Care of Merrimack Valley in Billerica.

She was born in Cambridge, August 25, 1918, the daughter of the late Grover C. and Jane V. (MacDonald) Barbarick and has lived in Billerica since 1946.

Mrs. Strong was employed at Raytheon for 33 years prior to her retirement. She was a member of the Grange, the VFW Eggo Post Ladies Auxiliary and the Order of the Eastern Star.

Mrs. Strong is survived by her sons, Grover Garrant and his wife Edith of Billerica and Richard Garrant and his wife Martha of PA; her daughter, Mary Galvin and her husband David of Athol and is also survived by 8 grandchildren and 16 great grandchildren. Mrs. Strong was the mother of the late Donald Garrant.

STRONG Of Billerica, May 18, Adelia J. (Barbarick)(Garrant) Strong. A funeral service will be held Friday at the SWEENEY MEMORIAL FUNERAL HOME, 66 Concord Rd., Billerica at 11 a.m. Visiting hours will be held Thursday from 4-7 p.m. Relatives and friends respectfully invited. In lieu of flowers, memorial contributions may be made to the VFW Eggo Post 2597, P.O. Box 207, Billerica, MA 01866. Burial in Fox Hill Cemetery, Billerica.